---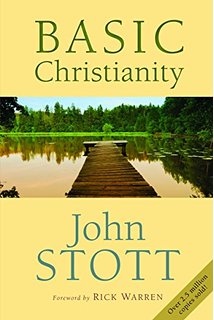 Named a "Book of the Century" by Christianity Today "If Jesus was not God in human flesh, Christianity is exploded," writes John Stott. "We are left with just another religion with some beautiful ideas and noble ethics; its unique distinction has gone." Who is Jesus Christ? If he is not who he said he was, and if he did not do what he said he had come to do, the whole superstructure of Christianity crumbles in ruin. Is it plausible that Jesus was truly divine? And what would that mean for us? John Stott's clear, classic book examines the historical facts on which Christianity stands. Here is a sound, sensible guide for all who seek an intellectually satisfying explanation of the Christian faith.
About the Book
"For fifty years Basic Christianity has exposed the backbone of the Christian faith. Its uncompromising clarity, intelligent logic and easy application make this one of the most enduring of Christian classics. In a time of ambiguity and confusion I can think of no other book I would rather recommend. Every evangelist should consider Basic Christianity a master class in communicating the gospel. This book is a must-read for those who are seeking God or wishing to refresh their own faith, or for those who hope to lead others into the loving arms of Jesus Christ." (Reverend William Van der Hart, evangelist and pastor, Central London)
"John Stott's books have helped millions around the world to a better understanding of the Christian faith. I, for one, am extremely grateful for the way in which he explains complex and difficult issues with great clarity, insight and wisdom. Basic Christianity has become a classic of our time." (Nicky Gumbel, Vicar, Holy Trinity Brompton, and Pioneer of the Alpha course)
"This was the classic forerunner of strong, balanced evangelistic books, and I am delighted it is being republished fifty years later. It led many to faith then, and it will again." (Canon Dr. Michael Green)
"Anything John Stott says is worth listening to . . . anything he writes is worth reading. Basic Christianity is not only a classic must-read for every believer, it is truly a blessing preserved on the written page for the enrichment of this generation, and those to come." (Anne Graham Lotz)
"We can thank God that in the past few years those committed to Christian orthodoxy have been realizing the importance of the subjective and experiential aspects of the Christian gospel and using these in introducing Christianity to others. But the danger is that we can get so carried away by this that we forget the heart of what Christianity is all about. At such times it is good to go back to tried and tested expositions that have stood the test of time. And what better resource is there for this than John Stott's classic Basic Christianity?" (Ajith Fernando, national director, Youth for Christ, Sri Lanka)
"Lucid, clear and compelling. After Mere Christianity, perhaps no other book has helped more people come to faith. I'm thrilled that this classic has been appropriately shaped and refreshed for a modern audience without losing any of its timeless charm and persuasive brilliance. Having led and organized university missions for over twenty-five years, I was sobered to be reminded of what a debt we all owe to this book and its author. 'Christ is Christianity,' and no other book exemplifies a Christ-centered apologetic more simply and clearly." (Reverend Richard Cunningham, director, UCCF: The Christian Unions)
"[This slim volume] has introduced more people to Christ than any book I know other than the Bible." (James W. Sire, author of The Universe Next Door) –This text refers to an out of print or unavailable edition of this title.
Disclosure of Material Connection: Some of the links in the page above are "affiliate links." This means if you click on the link and purchase the item, I will receive an affiliate commission. I am disclosing this in accordance with the Federal Trade Commission's
16 CFR, Part 255
: "Guides Concerning the Use of Endorsements and Testimonials in Advertising."