---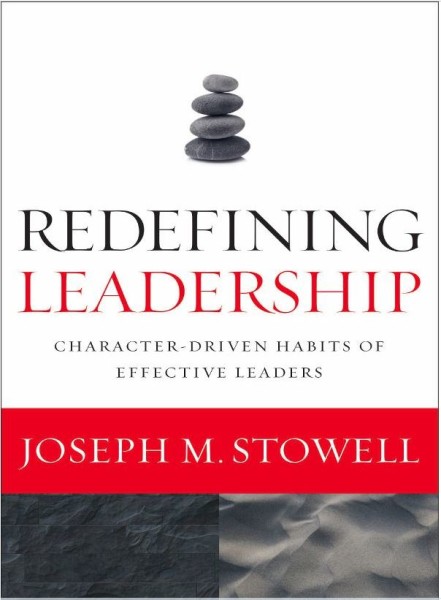 Is successful leadership measured simply by the outcomes a leader achieves, or is there another - more essential - yardstick for measuring success? In Redefining Leadership, author, pastor, and college president Joe Stowell shows us that the best leaders are driven by Christ-formed character, and that truly successful leadership is not defined by the standards of this world but by the counter-intuitive practices and perspectives of the Kingdom of Christ. With compelling personal stories and insights from the Bible, Stowell highlights the contrast between these two radically different leadership styles and demonstrates that the teaching and example of King Jesus, the world's most unlikely leader, is the only model of leadership that leads to maximum results.
About the Book
Review
'This book is powerful. It exposes the eternal consequences of having earthly applause for our Christian leadership and service, while receiving Heaven's silence. And it is incredibly encouraging because it also reveals that leaders and ministries that seem to have earth's silence may one day be the very ones who receive Heaven's applause. After reading it, I re-examined my leadership, repented of my desire for "outcome," and recommitted my "followership" to more clearly reflect our Servant King. Thank you, Joe Stowell.' — Anne Graham Lotz, , Speaker and author of Wounded by God's People
'My soul needed this book. Redefining Leadership offers the profound reminder that our legacy is formed by who we are, and not merely by what we accomplish.' — Jeff Manion, , Senior Teaching Pastor, Ada Bible Church in Ada, Michigan, and author of The Land Between
'I am so grateful to God that my dear friend, Joe Stowell, has written Redefining Leadership. Not only is Joe a portrait of what he has written, but he has also spent much of his life and ministry shaping the next generation of Kingdom leaders. He writes not just from experience and what he has observed, but from a life and ministry marked by godly integrity. This book is a treasure and all who have been given the gift and privilege of influencing others. Thanks, Joe, for the clear, compelling reminder that we are to lead according to the ways of the Kingdom and the will of our King, Jesus Christ.' — Dr. Crawford W. Loritts, Jr, , Author, speaker, radio host, and senior pastor of Fellowship Bible Church, Roswell, Georgia
'A revolutionary and life-shaping book on kingdom leadership, one rooted not in outcome-based theories about leadership but in theology—a kingdom-saturated and gospel-based theology where the leader is first a follower whose character is transformed by God's grace. The revolution of this book is that God's transformation of us makes us God's kingdom leaders, and this is just the kind of leadership we need today. Five stars!' — Scot McKnight, , Professor of New Testament, Northern Seminary
'Joe knows leadership. And he knows what the Bible says about leading. He's a guide worth following.' — John Ortberg, , senior pastor of Menlo Park Presbyterian Church and author of Who Is This Man?
About the Author
Dr. Joseph M. Stowell serves as the 11th President of Cornerstone University in Grand Rapids, Michigan. Comprised of approximately 2500 undergraduate and graduate students, Cornerstone is a Christ-centered university with a passion for global influence through the transforming power of the gospel. The University is committed to creating an environment where students thrive both spiritually and intellectually as they prepare themselves to influence our world as followers of Jesus.
An internationally recognized conference speaker, Joe has also written numerous books including "The Trouble with Jesus, Simply Jesus and You, The Upside of Down" and "Eternity." Joe also serves with RBC Ministries, partnering in media productions, writing, and outreach to pastors. His "Strength for the Journey" web ministry,www.getmorestrength.org, features daily devotionals, weekly messages and commentary, downloadable Bible study curriculum, and an audio library of his most requested messages. Joe serves on the Board of the Billy Graham Evangelistic Association and Wheaton College, and has a distinguished career in higher education and church leadership.
From 1987-2005, he served as the president of Moody Bible Institute, and as teaching pastor at the 10,000-member Harvest Bible Chapel in suburban Chicago from 2005 to early 2008 prior to assuming the presidency at Cornerstone University. He is a graduate of Cedarville University and Dallas Theological Seminary and was honored with a doctor of divinity degree from The Master's College in 1987. Joe and his wife Martie are the parents of three adult children and ten grandchildren.
Disclosure of Material Connection: Some of the links in the page above are "affiliate links." This means if you click on the link and purchase the item, I will receive an affiliate commission. I am disclosing this in accordance with the Federal Trade Commission's
16 CFR, Part 255
: "Guides Concerning the Use of Endorsements and Testimonials in Advertising."